Hair transplant clinic in Faisalabad
Hair transplant clinics in Faisalabad started hair restoration, baldness as well as hair treatments. It is more than eighteen years that Cosmoderma clinic started transplant surgery in Lahore. However mostly people prefer to get treatment from Faisalabad. Many people travel to Lahore for quality and best Fue hair restoration results. Mostly people do not want to get their procedure from Faisalabad due to lack of expertise of doctors and clinics. It is a new thing for doctors in Faisalabad but this procedure is being performed all over the world more than five decades earlier.
Best hair transplant specialist doctor in Faisalabad
Hair transplant cost in Faisalabad
It is a concern of every hair loss patient to know how much does it will cost for FUE or FUT hair transplant in Faisalabad. Its price and cost is less in Faisalabad as compare to Lahore or Islamabad but there will be huge difference in terms of result. Doctors and clinics are more experienced and expert in Lahore and Islamabad as compare to Faisalabad.
PRP hair treatment in Faisalabad available
Fue hair transplant photos Faisalabad Patient
Single     = 971 Grafts
Double    =1443 Grafts
Triple     = 360 Grafts
Total = 2774 Grafts
Procedure date : 04 April 2017 – Surgeon Dr. Ahmad Chaudhry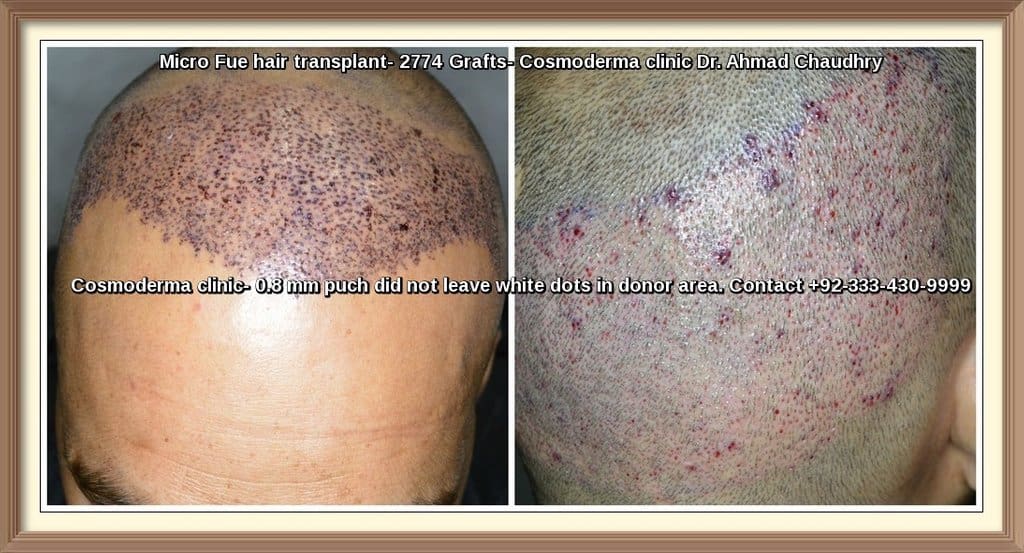 Hair Transplant online Consultation & Whats app
Cosmoderma Clinic
31 A -Ali Zeb road Block C-3
Gulberg-3 Firdous Market
Lahore Pakistan
Tel: +92-42-3587-4529
Cell &Whats app   +92-333-430-9999
Timing: 9.00 AM to 5 .00 pm (Mon to Sat)