Fue hair transplant photos Dammam Photos
Mr. AM did not get his Fue hair transplant in Dammam and searched on internet for best clinics for follicular unit extraction procedure and decided to travel Cosmoderma clinic for hair restoration. His procedure was performed by Dr.Ahmad Chaudhry on 09 March 2017 and total 2715 grafts were transplanted in single session.  The procedure was started at 10.00 AM and completed at 3:30 PM.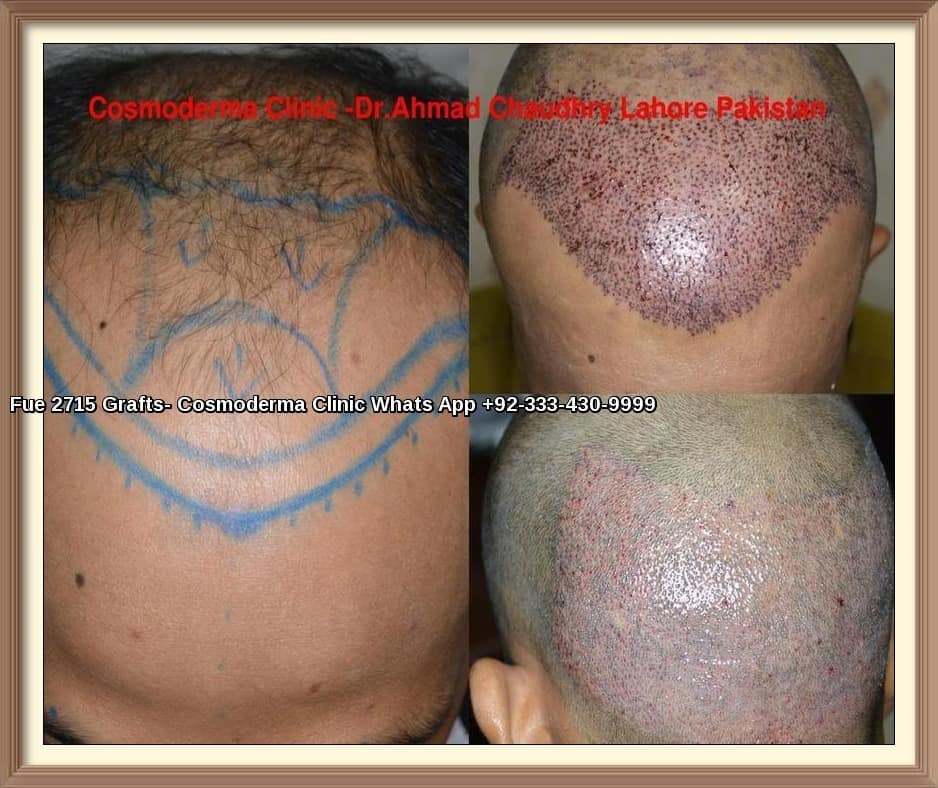 .
Hair Transplant clinic Dammam
There are few hair restoration clinics in Dammam but these clinics did not have enough before and after photos gallery and mostly patients travel abroad for cheap and affordable hair loss treatments.
Hair Restoration surgeon in Dammam
It is a desire of every hair loss patient to get best hair restoration surgeon in Dammam for their treatment but unfortunately they did not find any best surgeon in Dammam and mostly inquire about our clinic by call or email to solve their hair loss problem.
Hair loss Treatment in Dammam
There are various hair loss and hair fall treatments in Dammam at different clinics. PRP hair fall control is a most popular these days. We perform PRP -platelet rich plasma hair loss treatment separately as well as combined with hair restoration procedure.
Fue hair transplant cost Dammam
Fue hair transplant cost in Dammam is charged according to these two factors
Area of baldness or number of grafts requirement
Hair restoration technique FUE Vs. FUT
Strip and Fue procedures prices are different. An average Fue hair transplant cost in Dammam is 20,000 SR and it is a major reason people travel to Cosmoderma clinic and get their treatment as well as procedure 6000 to 8000 SR.
Hair Restoration clinic Contact -Appointment :- 
Cosmoderma Clinic
31 A -Ali Zeb road Block C-3
Gulberg-3 Firdous Market
Lahore Pakistan
Tel: +92-42-3587-4529
Cell & Whats app # +92-333-430-9999